Cadman Cranes take delivery of UK's first Tadano AC 4.080-1 Mobile Crane
We are proud to announce the arrival of the first Tadano AC 4.080-1 to the UK market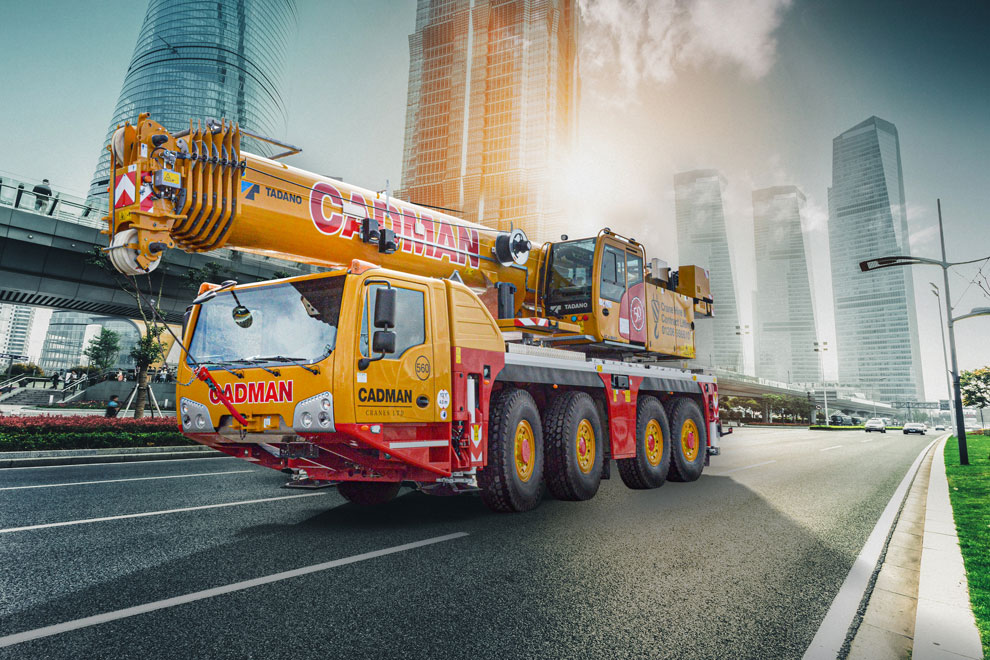 In the coming days, the new 80t mobile crane from Tadano will carry out its first lift in the UK and it will do it in Cadman colours. This attractive machine comes with impressive capabilities and a number of new exciting features. Boasting a 60m main boom on a compact, 4 axle base, it will provide our customers with unmatched capacity at competitive prices.
One distinct advantage is its ability to be able to carry its entire counterweight of 17.7 tonnes, plus 600 kilograms of payload, whilst still remaining within the requirements of the UK's 16.5-tonne axle load limit. This negates the need for additional transport, reducing costs and improving sustainability.
This crane will run on 100% HVO – a sustainable alternative to regular diesel. By doing so, we'll reduce your carbon emissions by over 98% and you'll be contributing towards a cleaner planet for generations to come.
Tadano Sales Manager, Tim Leech, commented: "This newly developed crane is consistently geared to the needs of our customers. The fact that Cadman has now decided in favour of it makes me very proud – especially as it is the first AC 4.080-1 on the British market."
Matt Waddingham, Managing Director, said:

"We're really excited to receive this new machine and once again lead the way with a bold new concept."

"Tadano have produced a strong, compact, attractive crane and working with them has been a pleasure. The 80t was a staple of the mobile crane industry for many years and was much loved by customers. But without a new design in a long time they have become quite a rare sight these days. I can't wait to reintroduce it to the region and carve out a new chapter for this great all-rounder. It will slot perfectly into our fleet and I am confident it will become very popular very quickly."
"Despite a challenging period ahead for industry I am confident in the resilience of our business, the quality of our people and the bullishness of our customer base. Our investment strategy reflects this confidence and we will continue to add quality equipment at the right time."
Key Features

Industry leading 80t all-terrain mobile crane
First of its kind in the United Kingdom
Fully equipped and roadable within a 16.5t axle load
IC1 Plus Control System
Flex Base Stepless Outriggerpositioning
60m long telescopic boom, making it one of the longest booms in this crane class
Lifting capacity in steep boom positions makes it unbeatable in its class

Technical Specifications

Max. Load Capacity: 80t
Telescopic Boom: 60m
Max. Hoist Height: 78m
Max. Radius: 50m
Number of Axles: 4
Engine Power: 462bhp
Top Speed: 52mph

Click here to download the Tadano AC 4.080-1 Technical Data sheet.
If you are interested in finding out more about this crane or require a mobile crane for an upcoming project, we are only ever a phone call away. You can call us directly on 01206 986610 or send an email to [email protected].