Cadman Cranes reduce customer carbon footprint by 98%
With 'The Environment Act' legislation (designed to protect and enhance our environment for future generations) now passing into UK law, we are soon set to see a wide range of new regulations and targets to be achieved for those working within construction. Find out how we're helping customers slash CO2 output with HVO biofuel.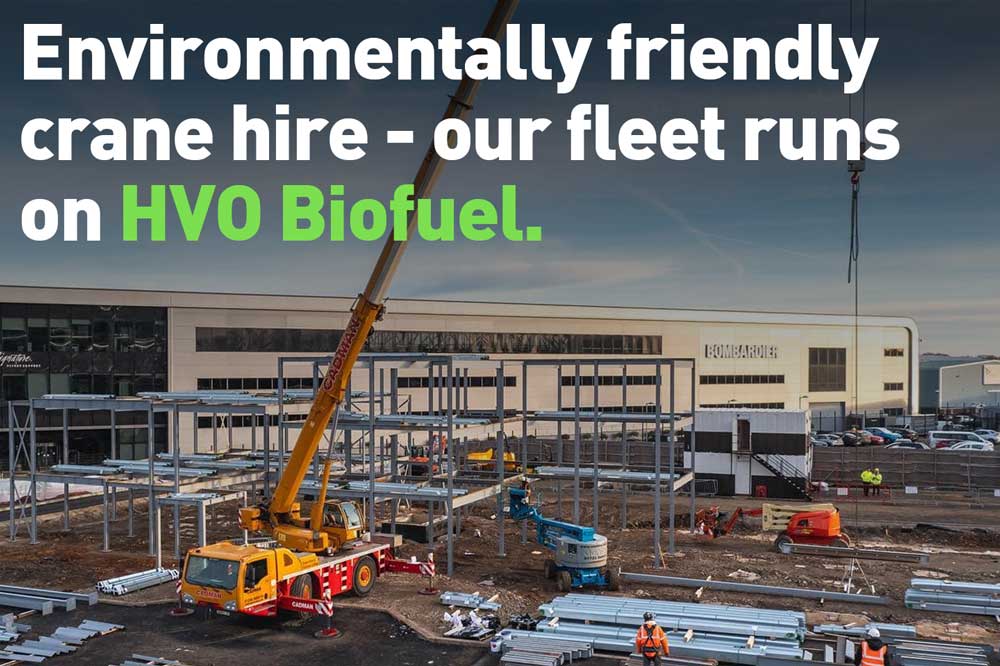 The introduction of HVO to 100% of our crane fleet in 2021 meant an immediate reduction in CO2 of 514-tonnes a year, and saw our carbon footprint drop by 73% overall. This is on top of greatly improved air quality caused by a substantial reduction in Nitrogen Oxides and particulate matter. The benefits of a switch to HVO are undeniable and for Cadman Cranes it is a vital first step on our journey to net zero carbon.
Calculations have shown that by utilising HVO biofuel in our cranes, we help customers reduce their carbon output per hire by more than 98%, contributing towards everyone's individual sustainability goals and targets, whilst greatly improving the air quality for employees on the ground.
We understand the importance of protecting both our local community and the environment and accept that work towards a more sustainable future will never be complete. We are committed to continual research and development that ensures we are always progressing and heading in the right direction. We are currently investigating the feasibility of using HVO in the remainder of our fleet and support vehicles, along with switching over to fully-electric alternatives where possible – a huge development in reducing carbon emissions further.
As part of our future planning, we are continually reviewing sustainability processes and analysing our effectiveness to provide options for improvements. We work closely with our supply chain to ensure that all companies we work with have similar environmental aspirations and offer support wherever possible to assist in achieving more together.
If you have regular requirements for mobile crane hire across the UK and are conscious of your impact on the environment, we would love to help. Contact us directly to find out how we can reduce your carbon footprint.