Cadman Cranes take delivery of South of England's first Liebherr LTM1110-5.1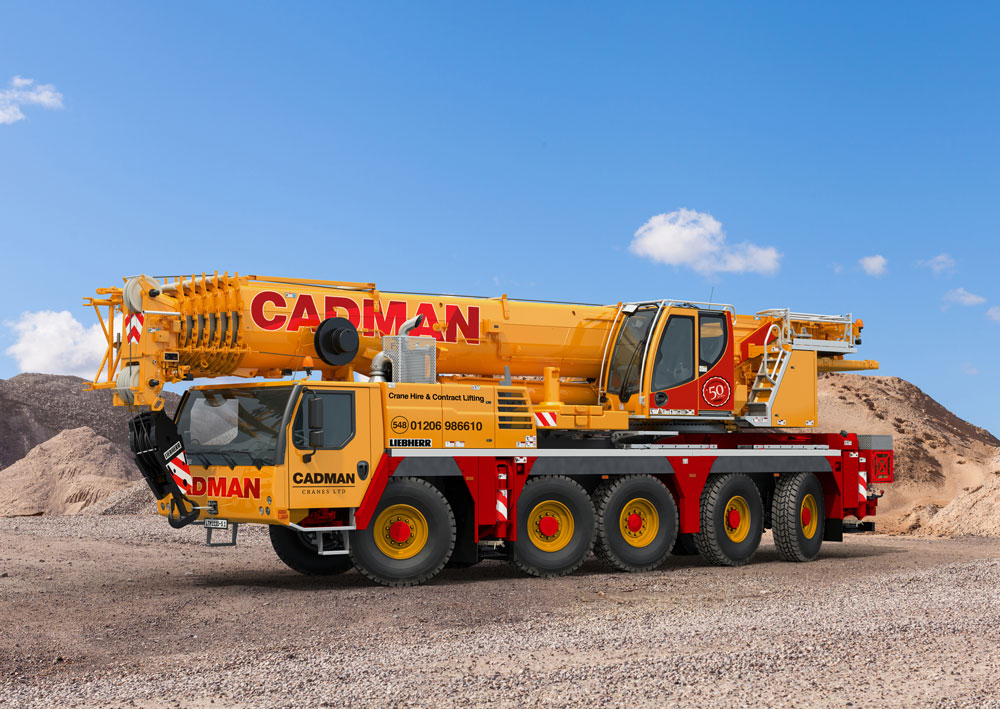 Colchester based UK mobile crane hire company Cadman Cranes has taken delivery of the South of England's first 110 tonne Liebherr LTM 1110-5.1 All Terrain crane, originally unveiled at the Bauma event in 2019. The five axle LTM 1110-5.1 features an extra-long 60 metre telescopic main boom, one of the longest in its class, along with Liebherr's trusted VarioBase® Plus support technology.
Liebherr's VarioBase® (variable support base) is well known to generate exceptional lifting capacities in the areas above the outriggers. However, their engineers went a step further with the new 110-tonne crane seeing the rear outriggers utilise a double stage design and achieving a support width of 8.3 metres. Although only 0.65 metres more than at the front on each side, the increase in performance over the rear outriggers is enormous.
The most notable feature of this new investment is its ability to travel on UK roads complete with its 29-tonne counterweight whilst remaining within STGO regulations, removing the need for any additional ballast transport. "Prepared for every task!" is how Liebherr presented the new LTM 1110-5.1 at the Bauma trade fair last year. The aim for the design of the new 5-axle crane was to enable it to complete jobs economically and flexibly. But, of course, it had to be powerful as well! This is German engineering at its best.
Managing Director of Cadman Cranes, Matt Waddingham, said: "2020 has certainly proved a worthy adversary so far, but I am really proud of what's been achieved under these circumstances. In a very challenging environment, we have outperformed expectations which has allowed us to bring forward this investment and we are thrilled to be in a position to take ownership of the first 110t crane from Liebherr in the South of the country. We have always admired the quality of their machines – versatile, strong and innovative, loved by our customers, loved by our operators and I am very excited about seeing this new concept doing quality work across the region. At a time when a lot of companies must reconsider their investment plans, I am proud that Cadman Cranes can show this kind of commitment to the industry, our customers and the future".
Part of the Milbank Group, Cadman Cranes is the leading mobile crane hire company in Essex and East Anglia with over 50 years' experience and a reputation for quality, reliability and safety. Working out of a multitude of depots across the East of England, they are well positioned to offer mobile crane hire on a CPA Crane Hire or CPA Contract Lift basis to south-east England.
Their diverse fleet includes mobile cranes from 7 to 180 tonne capacity and a unique selection of mini cranes, compact crawler cranes, truck mounted Böcker cranes and specialist lifting equipment.
To download the Liebherr LTM 1110-5.1 Duty Chart, please click here: Liebherr LTM 1110-5.1 Specification
-ends-
Notes to editors:
Want to feature this article in your publication? For enquiries, comments or photographs please contact Ashley Perkins, Marketing Manager.
[email protected] | 07701 379676