Cadman Cranes Partners with Morrison Energy Utilising ACC 2050 Compact Crawler Crane
As leaders in contract lift management services, we were pleased to be selected as the lifting partners working with Morrison Energy Services on the installation of 2 new disc connector switches, individually weighing in at 3.5 tonne.
The site of this project presented some unique challenges due to restricted site access, low overhead access and the presence of surrounding structures which meant that a standard all-terrain mobile crane was not possible and required an alternative solution.
We were able to offer the Morrison Energy team the ideal solution utilising our ACC 2050 Compact Crawler Crane, or the "Thunderbird" as it has been affectionately nicknamed by our team here at Cadman's. The Thunderbird offers an excellent combination of power and precision, making it an ideal choice for navigating site restrictions and low overhead access.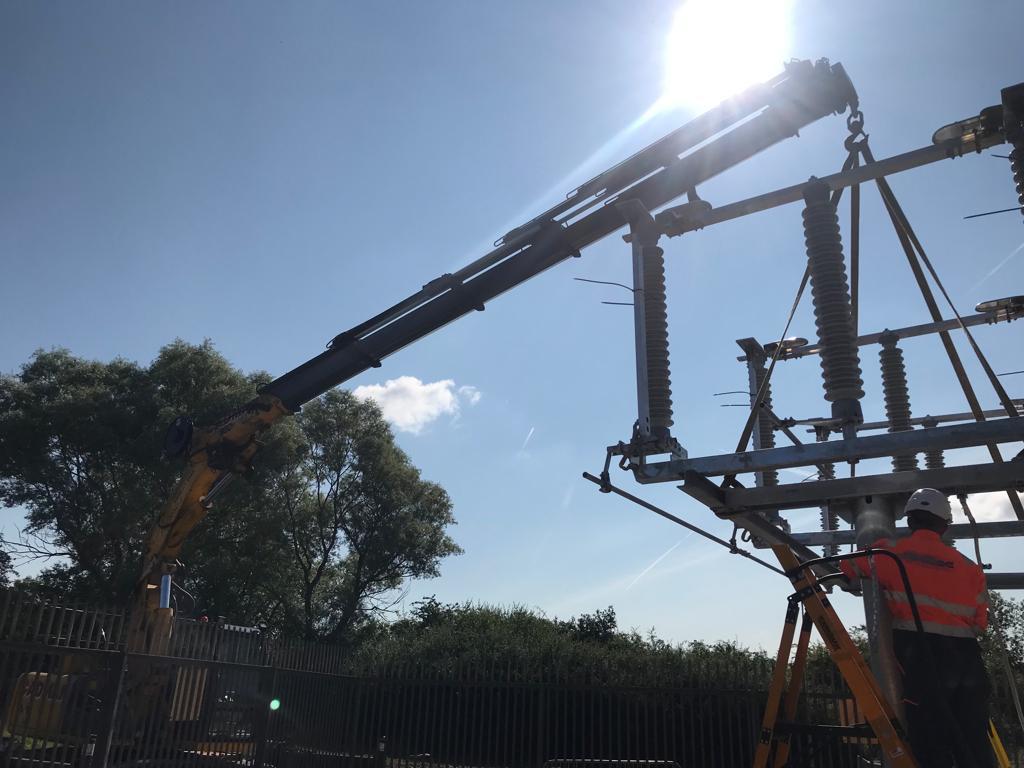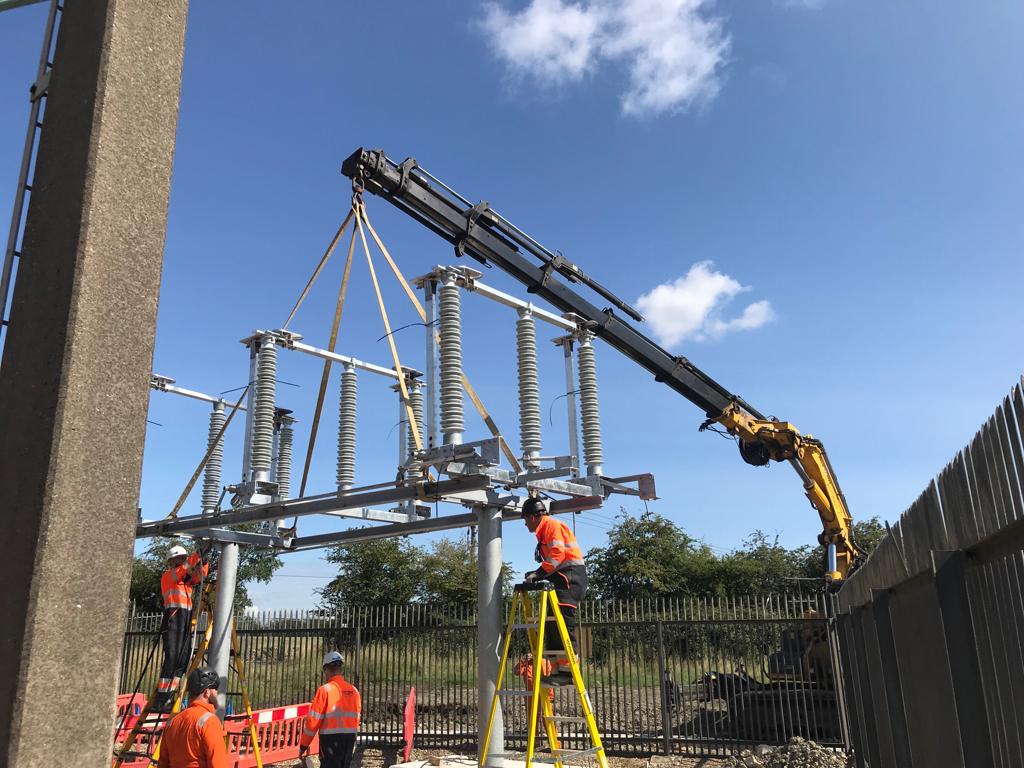 Exceptionally versatile, the Thunderbird's compact form, combined with its remarkable lifting capacity makes it ideal for a wide range of highly specialised projects that would otherwise be unfeasible for a conventional all-terrain crane. The fully remote-controlled telescoping main boom and hydraulically luffing fly jib provide lifting capacities of up to 2200kgs to a maximum working radius of 16.00 metres and 1120kgs to 22.80 metres respectively.
The Thunderbird also provides outstanding traction capabilities, particularly in challenging ground conditions, thanks to its low ground bearing pressures and the all-terrain tracks. This feature allowed the Morrison Energy team to forgo the investment of installing a crane base, which would have been required in this scenario due to the challenging foot conditions present on-site after heavy rainfall.
Utilising the ACC 2050, the disc connectors were picked and carried from their stored position before being repositioned into their new location. Operating at a 10-metre radius and a capacity of 3.8 tonnes, the highly specialist lifting team also had to execute this task within 5-metre of 132kV overhead power lines. This required additional permissions from Morrisons Energy due to the standard requirement of maintaining a distance exceeding 6-metres from any power lines.
This highly specialised lift required careful planning, coordination, and strict adherence to safety procedures due to the close proximity presence of the high-voltage power lines. As a contract lift operation, Cadman's team took full responsibility for the lift, including all associated risk and liability, enabling Morrison Energy to reallocate resources to other areas. This approach ensured a safe and efficient lift that was fully compliant.
A disc connector switch is used to provide safe isolation to ensure that an electrical circuit, either part of the circuit or the whole circuit, is completely de-energised. Morrison Energy Services is renowned for its collaborations with national energy networks and public entities, aiming to elevate, rehabilitate, and sustain the country's energy infrastructure. With a resolute focus on decarbonisation, their efforts harmonise seamlessly with the transition towards a Net Zero economy.
At Cadman Cranes, sustainability isn't just a buzzword – it's ingrained in our ethos. As experts in contract lift management services, we are commitment to providing an exceptional customer experience while pushing for positive change as leaders of sustainability within the industry. This partnership underscores not only the versatility of the Thunderbird ACC 2050 but also reflects Cadman Cranes' unwavering commitment to our sustainability values.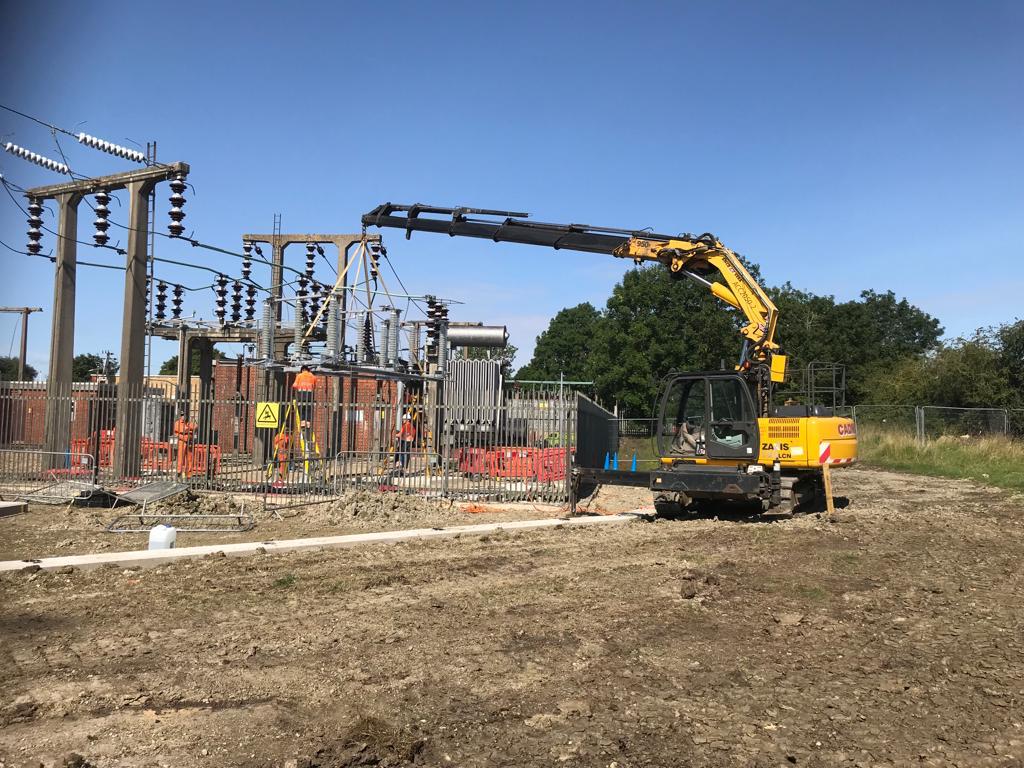 Work with Cadman Cranes
From fully-managed Contract Lifts to Crane Hire, Specialist Lifting Equipment, Sustainability Advice and beyond, we're here to support your lifting requirements. Contact our team directly to see how we can help.