Cadman Cranes Continues to Grow Fleet with 50-tonne Liebherr LTM 1050-3.1 Taxi Crane
Cadman Cranes, the leading crane hire company in East Anglia, is thrilled to announce the latest addition to its already diverse fleet – the reintroduction of the 50-tonne Liebherr LTM 1050-3.1 taxi crane. This strategic move is set to strengthen Cadman's position within the market, offering customers an expanded range of solutions.
 This month marked the delivery of the 50-tonne Liebherr LTM 1050-3.1, a machine strategically chosen to fill gaps in the fleet and address customer demands. The addition of this three-axle crane, equipped with Variobase®, is expected to enhance operational efficiency and versatility.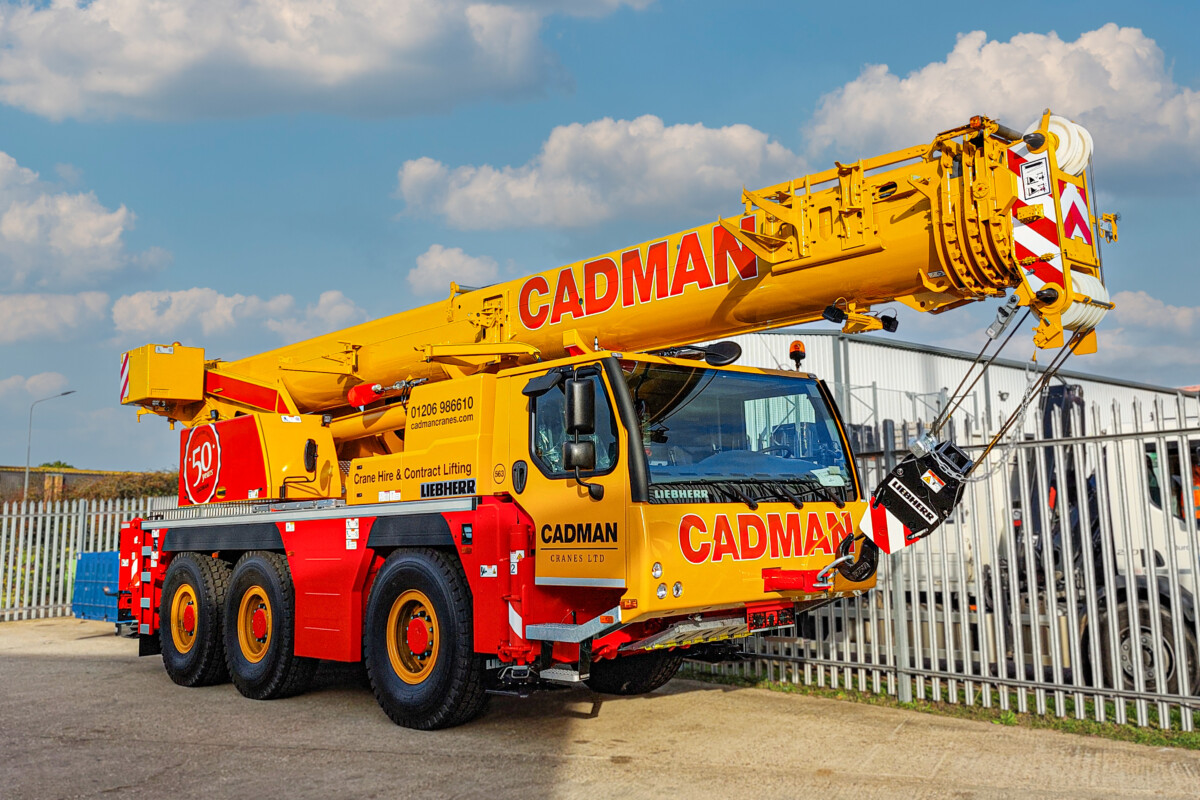 Managing Director, Matt Waddingham expressed his enthusiasm for the new machine, stating, "It has been some time since the 50-tonne mobile crane was part of our fleet, and we have missed them. A true industry workhorse for decades, it has been understandably eclipsed by the 60-tonne range in recent years."
While already boasting four 60-tonne cranes that are much loved, Waddingham emphasised the need to address market demands and prevent over-specification. He said, "Gaps in our fleet lead to over-specification, missed returns, and unsatisfied customers. We're here to provide the right solution, so, just as we have done in the past, we will invest in the right equipment to bridge any gaps and ensure our customers get precisely what they need."
Key Features of the Liebherr LTM 1050-3.1:
Three-axle crane with Variobase® technology
Four-section 38-meter main boom
Nine to 16-meter bi-fold swingaway extension
Capable of traveling in the UK with its full nine-tonne counterweight or meeting 12-tonne axle loads with its 4.4-tonne fixed counterweight
Steven Elliot, Liebherr Great Britain area sales manager, commended the addition of the LTM 1050-3.1 to the Cadman fleet, highlighting its popularity among UK customers, saying : "The LTM 1050-3.1 is simple and quick to set up and operate due to the roped boom technology. It's a nice compact versatile three-axle machine. The crane can carry all of its nine tonnes of counterweight in the UK."
 Commitment to Sustainability:
In addition to fleet expansion, Cadman Cranes continues its commitment to environmental stewardship. As a recognised industry leader in sustainable lifting solutions, the company proudly runs on 100% HVO fuel across the entire fleet and is on track to achieve net-zero targets by 2024, demonstrating a steadfast dedication to environmentally conscious business practices.
With the introduction of the Liebherr LTM 1050-3.1, Cadman Cranes reaffirms its position as an industry leader, dedicated to meeting customer needs, embracing technological advancements, and contributing to a sustainable future. The company looks forward to showcasing the capabilities of this new crane and further solidifying its reputation in the lift management and crane hire market.